SYSTEM-SPECIFIC TRAINING©
This training, on-site, at your facility, is custom designed to your maintenance worker's specific hydraulic, pneumatic or electrical technology learning needs. Most often our on-site training is directed towards your hydraulically powered and controlled processes and machinery. We call this System-Specific Training©. We have provided hundreds of training courses based on specific hydraulic equipment for customers in many areas of industrial and mobile manufacturing, systems and equipment.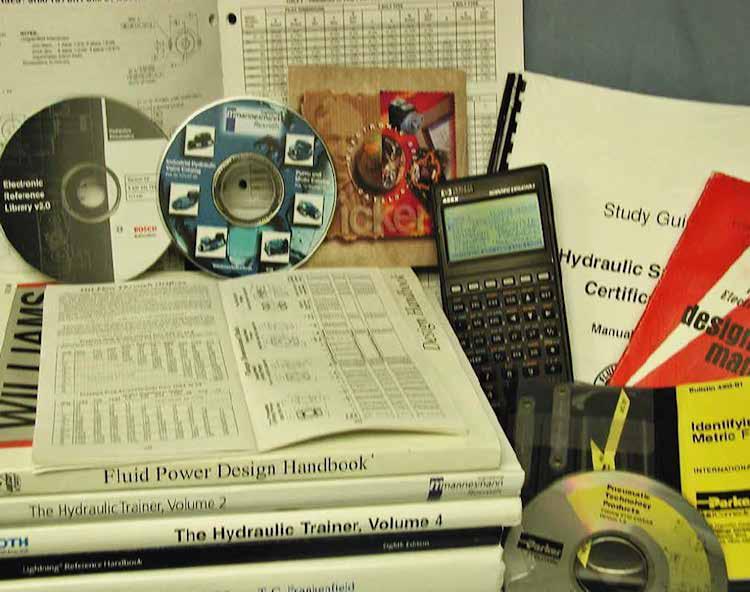 THE PROCESS FOR DEVELOPING A TRAINING COURSE OF STUDY FOR YOUR MAINTENANCE OR ENGINEERING PERSONNEL STARTS WITH AN INITIAL CONTACT FROM YOU AND WILL PROCEED AS FOLLOWS:
Contact us with the interested person's name, company name, phone and email.
We will respond by sending you our questionnaire and a description of our capabilities. The questionnaire is brief. Return it to us via email or fax
If part or all of the training is system specific we will require technical documentation of the fluid power or electrical portion of the equipment (equipment schematic/s and parts list – only). We will request fluid power or electrical equipment schematics. We will review the system/s and include information we obtain from schematics as part of your training proposal.
After developing a thorough understanding of your maintenance and/or engineering personnel learning needs we will provide a detailed training proposal and cost quotation for your review, possible modification and acceptance. Our training proposals are provided free without obligation.
We will negotiate appropriate dates for the training.
We will provide all student learning materials.
AN IMPORTANT NOTE REGARDING THIS PROCESS:
After we review all of your personnel learning needs and your hydraulic equipment, electrical equipment or pneumatic equipment schematics, our follow up with a proposal is your assurance that we can meet your training expectations. We accept no training for which we believe we are not qualified!
For more information or to begin the process.
CONTACT JIM
610-704-2577
jctrinkle@amthydraulics.com
"The Industrial Fluid Program offered by Applied Motion Technologies, Inc. elevated my knowledge and confidence in interpreting hydraulic schematics and circuitry. From the hands-on lab approach to the in-class theory, I have become more efficient at quoting systems for varying industrial hydraulic applications.
-Isaac Ahadjie,
Bosch Rexroth Corporation.
"The course made doing my job easier"
-Chris Bath,
Nucor-Yamato Steel
"The Industrial Fluid Power Program reinforced the fluid dynamics concepts used in industrial hydraulics systems, and helped me to better understand hydraulic components and their applications. Jim's courses are a great way to get ahead of the curve and increase your value to your company. The IFP courses are must haves for industrial maintenance technicians!"
-Hazen Fink,
Nucor-Yamato Steel – Memphis